Culture Committee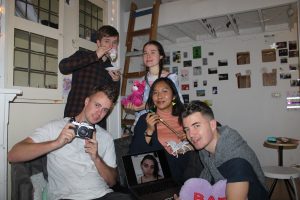 The Culture Committee is the committee that is responsible for all cultural-related activities within ESN. We organize a wide variety of fun events throughout the year. A recurring event is the Movie Night, we watch a movie and have a drink together, often with a specific theme like Christmas or Halloween. Examples of other events that we organize are: theatre visits, poetry slams, and talent shows. We aim to make our events social by having a chat and a drink with the participants after or before our cultural events. 
Twice a year, we have our most popular event which is the Live Music Night. Each semester a group of around 40 students form bands and rehearse twice a week to perfect their songs for the final show. At the Live Music Night, students have the opportunity to make music together and perform on a stage in front of more than 300 people.
We come together every week for a meeting and dinner. The Culture Committee consists of six enthusiastic members that will be introduced below:
Jullian: Last year he earned the title 'Mayor of Kokomo' as president of the PPC. This year he's moved to the Culture Committee. He keeps all our meetings on track and oversees all of the events we organize.
Lars: One of the few locals in ESN and the one and only last year's Excursion Committee treasurer. Lars already studies a master which is called Clinical Psychology, so this will probably his last year studying. He takes care of our money, and he is a central figure in our beautiful committee.
Bas: After a year of absence due to a backpacking trip around the world, he's back again in an ESN committee. The oldest but certainly not wisest member of the Culture Committee. Bas is always in for a drink and a laugh. As the secretary and the evaluator, Bas makes the notes during meetings, sends emails and makes evaluation reports of our awesome events. 
Lena: During the past years her body swung from country to country, sometimes her mind traveled faster, sometimes slower than her appearance. It's impossible to catch her translucent attention for longer than an hour but she's always happy to return to creating promotional material while her ears remain open, constantly orbiting around what matters to others the most.
Laura: From the Irish village of Cow (Population: 200) hails Laura Corrigan. Laura has done it all, from working at Disneyland, teaching English to Spanish teenagers, being part of the PPC last year, to arguably now having the toughest job in the culture committee. She takes care of more than 50 musicians for the better part of the entire year, while also studying Euroculture at the same time. Next year she will have to go on an Erasmus, but has not decided where yet, so if you see her around the city, give her a tip where to go!      
Zahra: While helping Laura taking care of more than 50 musicians, Zahra takes care of the PR part of the big project. As a Media student and a self-taught artist, give her your idea of a poster, social media posts, and promo videos and she'll be right at it like there's no tomorrow.