Culture Committee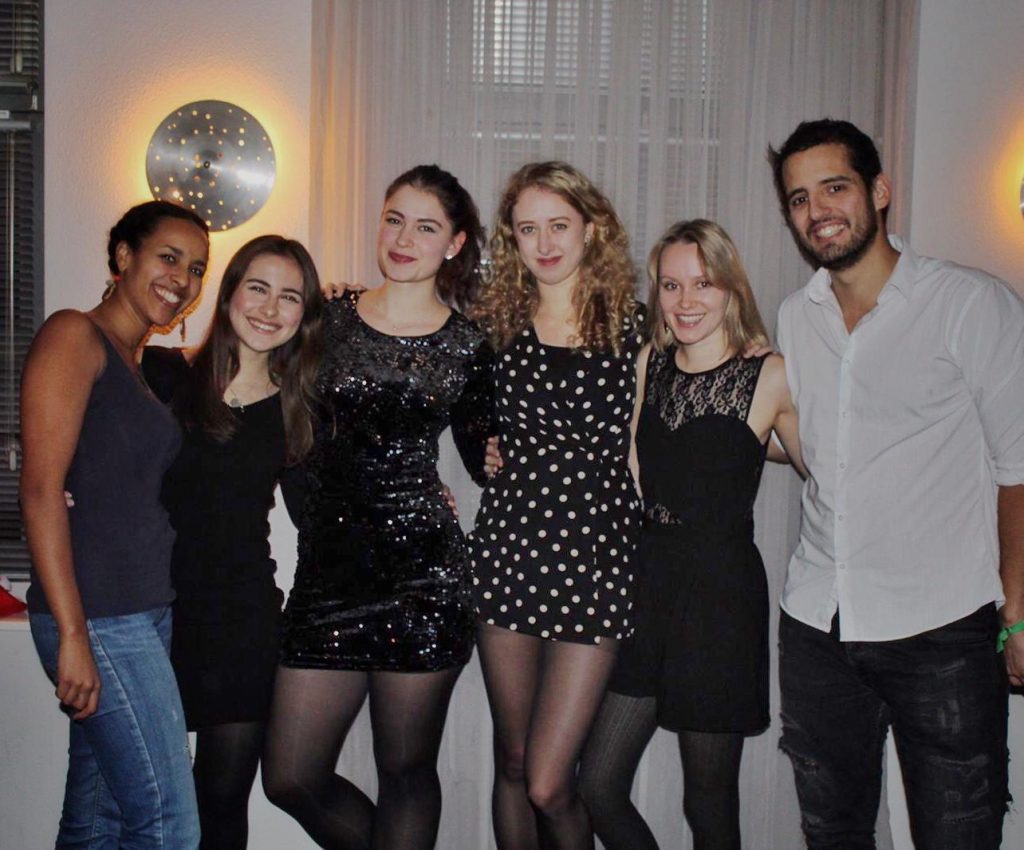 Let's talk art. 
As the Culture Committee of ESN, we organise all kinds of activities in Groningen throughout the year. From movie nights, museum excursions, theatre visits and talent shows, we plan everything your culture loving heart can wish for. To achieve this, we meet up every week to cook together, exchange new ideas, plan upcoming events and occasionally end up at themed parties at Kokomo. 
Our most popular event is the Live Music Night, where we give you the opportunity to make music with 40 other internationals and perform on a stage in-front of more than 300 people. 
Talking about the music night, let's start with presenting our beloved Alisa (but call her Lizzy). She is the multi-talent of our committee. Besides studying medicine she is a great cook, awesome dancer, beautiful singer, and a born presenter. Fun fact: She is sometimes even being recognised as a dancer and singer in a Youtube video back in Germany. Lizzy is therefore perfect for her role as music project coordinator. Together with the musicians, she was basically the one that made sure the last Live Music Night was again such a great success. Besides doing some serious stuff such as creating schedules for the rehearsals and making sure the whole concert runs smoothly she was always down for a party at one of the musicians' places.
Bleen is definitely the funniest person in the committee. She has the most contagious laugh in the world, which makes me sad for all the deaf people who can't hear it. She has a different hairstyle at every meeting which is amazing because she doesn't do it on purpose. Even though she is an amazing girl, who would go to the moon an back for you, I would definitely not put her on you emergency contact information… It takes days for her to reply or call back. she is the Activity Coordinator and is in charge of setting up some of the event. But her most important job in the committee is to be herself because we would fall apart without her.
Let's continue with our Italian PR-Manager/Evaluation and the youngest member of our culture committee: Amina. Being a student of International Economics and Business, she was determined to become a business women, since her childhood. Now that she is in our committee she uses all her passion and enthusiasm to promote and sell our events. Apart from her business-mindedness, Amina is a great person to have deep talks with and discuss questions about life and philosophy (and of course the latest gossip).
Our treasurer Mikha is our favourite (and only) guy in the committee and is responsible for our weekly amusement by making us laugh saying the funniest things at the worst times or by teaching us new dance moves. Next to providing us with beautiful beer cup heads, he is keeping an eye on the budget and thinks of creative ways to save some money. He is our good soul in the committee, always ready to help one of the committee members if it's needed. 
Moving on to the person without the committee would not survive: our Secretary. And we all agree that we could not wish for a more perfect person to fill this position than Anouk. She is our blond sunshine of the committee, always cheerful and reliable, master of to-do lists and always making sure that no email stays unanswered. Anouk makes her (sometimes oblivious) committee members happy by thoroughly writing down every minute of the meeting and sending them around afterwards. 
Last, the person that holds the group together, schedules the meeting and creates the Agenda: Helen. She is our president, which means that we should all worship her and immediately listen when she tries to calm us down saying "Guys, agenda!" in her very serious voice. But to be honest, she is more like our Mummy who we truly love but not always listen to (but still somehow always manage to fulfil our tasks on time). That might also be due to her urge to care and cook her delicious meals for us whenever she can. Multiply this awesome character trait with a lot of fun and you get Helen! Fun fact: Even though she is actually German, Helen tends to speak French whenever she has had a tiny little bit too much wine…