SocialErasmus Committee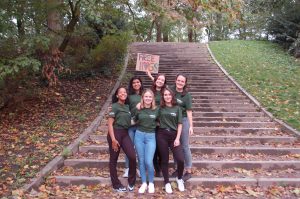 The SocialErasmus committee aims to enrich the experience of international students by engaging in the community in the hopes of broadening their realities and getting to know the community while they live and study in Groningen! Students new to the city can volunteer for a variety of activities which will have the basis of one of the eight founding pillars of SocialErasmus. These eight pillars include; animals, disasters, discrimination, education, environment, health, poverty and violence. This year, the committee will focus its efforts on Environment and Sustainability. International students will have varied roles in the participation of these events, ranging from; practicing English skills with Dutch students to hosting a dinner for a charity.
An important part of the SocialErasmus committee is the Erasmus in schools. At the start of each year, the committee organizes a "kinderboekenweek" in collaboration with elementary schools which aims to encourage children to read more books. International students represent their country in many ways such as telling a story or playing a game. The committee also organizes events with highschools; where international students can give presentations about their home country or practice English with Dutch students for their Cambridge English exams. This feature of the committee truly allows international students to be immersed in Dutch culture. 
The members of the SocialErasmus committee of 19/20 are:
We're always happy to hear any new ideas for activities that give back to the community!
SocialErasmus 19/20