COVID-19 | ESN Groningen
COVID-19 
In the ongoing COVID-19 pandemic, all of our events will be adjusted to the current measures implemented by the Dutch government. Currently, most ESN Groningen events will be physical. During our events, all measures in place are adhered to at all times. Click here to check the current COVID-19 measures in the Netherlands. 
I have COVID-19 symptoms
If you have any COVID-19 symptoms, you can get tested for free at the Dutch Municipal Health Service (GGD). Via this website, you can book a PCR test right away. Moreover, if you have to stay in quarantine, you can consider ordering your groceries through the delivery services called "Gorillas" or "Flink".
CoronaCheck App & QR code
If you have received your vaccination in the Netherlands or abroad, make sure you have installed the CoronaCheck App and have a valid Dutch AND International QR code. You need an ID card or passport as well when showing your CoronaCheck QR code. If you are vaccinated in the European Union and are an EU citizen, you are entitled to a Digital COVID Certificate (DCC) from the country you have been vaccinated.
If you have been vaccinated outside the EU, you can register your vaccination at the Dutch Municipal Health Service (GGD). To make an appointment, you can call +31308002899. During the call, a GGD employee will do a screening to see if you qualify for registration and a QR code. The employee then schedules you in for an appointment at GGD Groningen and will tell you what documents to bring (including your ID card/passport and proof of vaccination). More information can be found on the website of GGD Groningen.
If you have not been vaccinated or you do not have proof of your vaccination, you are only allowed to get a COVID Certificate with a negative test result of proof of recovery.
If you have received your vaccination outside the EU and have proof of vaccination, if you received one dose outside the EU and the second in the EU, or if you are in another current situation, please check what you have to do here.
Vaccination
Vaccination is an important part of the fight against the COVID-19 pandemic. If you are not vaccinated, you are able to make a vaccination appointment via the Dutch government website. Vaccination is voluntary and free of charge.
If you want to receive your second shot, you can make an appointment here. If your first vaccine shot is not authorized by the EU and you wish to receive your second shot in the Netherlands, then please contact the Municipality Health Service: GGD Groningen.
Download the App 'CoronaMelder'
The CoronaMelder App can help stop the spread of COVID-19 and detect infections faster, even if you have been vaccinated. The app will warn you if you have been near someone with coronavirus. This way, you can avoid unknowingly infecting people around you. Downloading the app is voluntary.
The app sends you a notification if you have been near someone who later tested positive for COVID-19, and you were around them for more than 15 minutes if that person is also using the app. More information about the CoronaMelder app can be found here.
Together, we'll keep corona under control. On the following website, you can find information about what the Dutch government – together with other organisations – is doing. Furthermore, you can find all the current measures implemented by the government on this website.
Click here to see the current information of the National Institute for Public Health and the Environment (RIVM).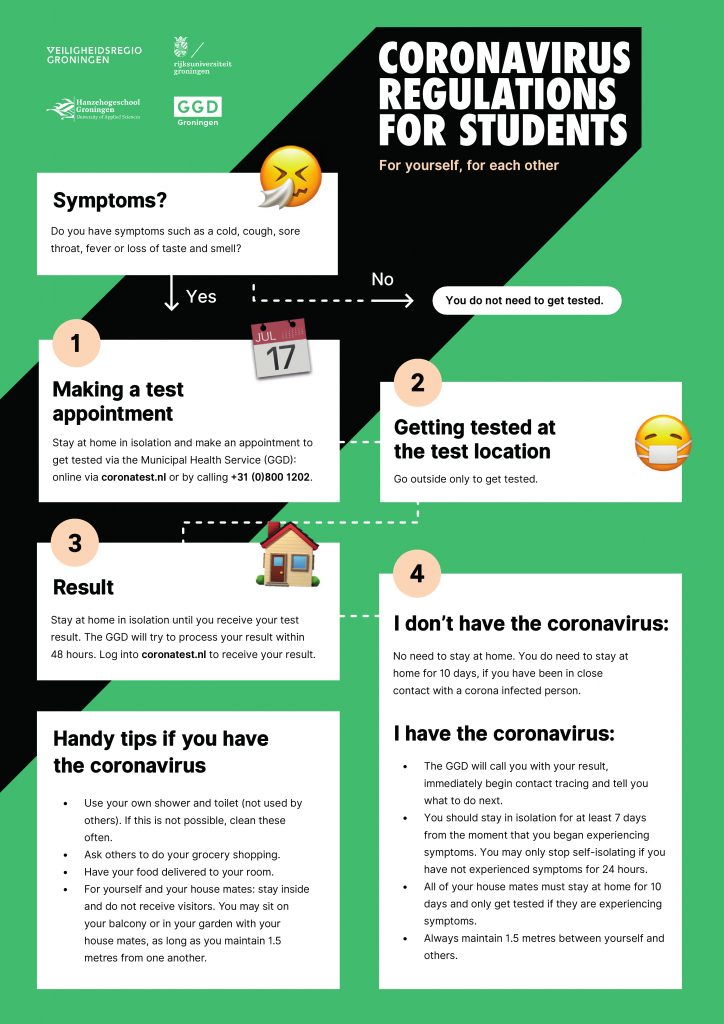 This page was last updated on December 8, 2021.