Buddy-to-buddy Programme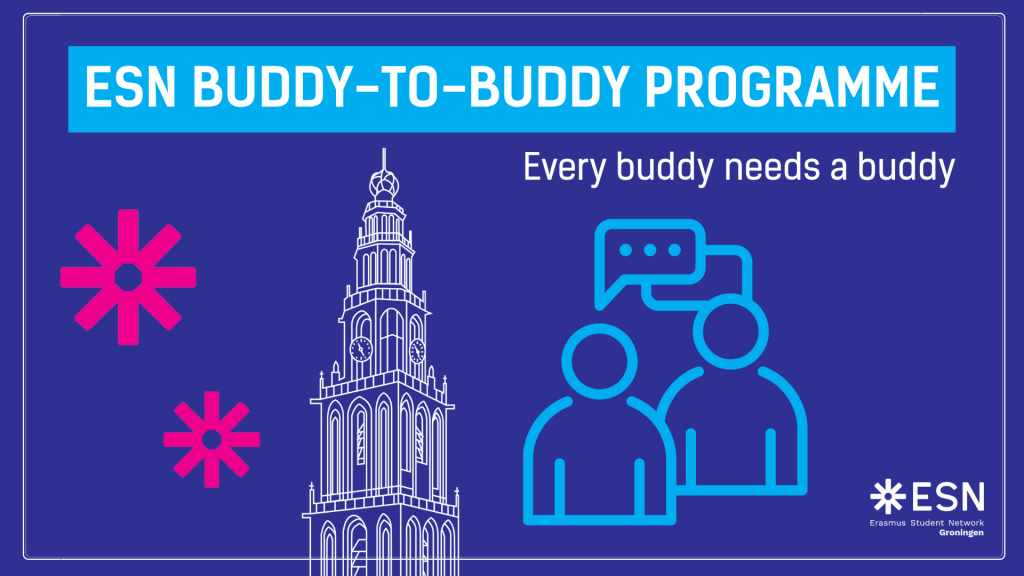 Are you bored of sitting at home all day everyday? Are you struggling to meet new people? Are you tired of staring at your screen for hours? Join the Buddy-to-buddy Programme of ESN Groningen!
Everyone is welcome to join this programme, no matter if you are an international or a Dutch student or whether you are a first-year or a fifth-year student! The Buddy-to-buddy Programme is a new programme that is focussed on bringing people together during these challenging times. If you are physically in Groningen, you can sign up for the programme (for now this programme is exclusively for students in Groningen, but if you are interested in an online buddy let us know via email and we will try to help you). You will be matched with another student based on your shared interests. Together, you can meet up to go for a walk, have dinner or watch a movie! After you have signed up for the programme, we will link you to another buddy as soon as possible, with whom you will get in touch through email. 
Next to meeting other students, you also have the chance to win some awesome prizes! Within the Buddy-to-buddy Programme, there will be challenges and activities every two weeks that you can do with your buddy. Take a picture of you doing this activity and post it to your Instagram with the hashtag #ESNbuddies, don't forget to tag @esn_groningen as well! (you can also send the picture as a direct message). We will then randomly select the winner(s)! You will receive more information about this and the challenges after you signed up for the programme.
Sign up here
Note: This programme is not the same as the ESN Buddy Programme which is meant for new incoming students at the beginning of each semester. You can find more information about the ESN Buddy Programme here. 
We already want to give you some inspiration for fun activities that you can do with your buddy now that most public buildings are closed (these are not part of the challenges/activities):
Get some fun games! Our tips: Qwixx, Ticket to Ride, Skip-Bo, Codenames, What Do You Meme?

Swap books with your buddy. After you've read each other's favorite books, you can discuss what you liked about it!

Take a walk, go for a bike ride, or take a run. Groningen is beautiful! You can visit Hoge der A, Prinsentuin, Hortus Haren, and many more places!

Have a present swap with your buddy.

Get some hot chocolate and some cosy blankets and watch as many movies as you can in 1 day or watch each other's favourite movies!

Bake a cake or pie or something you have never made before!

Make music together (or just listen to music together).

Make winter cocktails, like Jägertea or a marshmallow coffee cocktail.
If you have any other questions, don't hesitate to contact us at integration@esn-groningen.nl.