Get Involved at ESN
Do YOU want to get involved in the largest international student community in Groningen? Do you want to help ESN Groningen in organising events for international and Dutch students?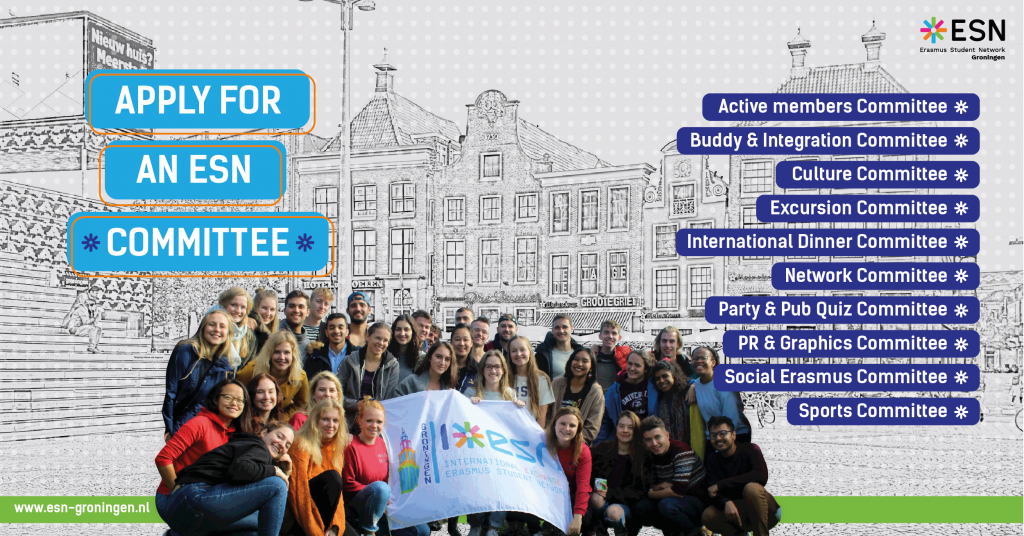 Interested? Apply before Friday February the 11th 17:00. Send your CV and motivation letter to info@esn-groningen.nl!
More information about Committees
---
Are you looking for a group of fellow students you can hang out with every now and then? Then joining one of our social clubs might be just for you! ESN Groningen has five clubs, which are fully run by club members and led by club runners
More information about the Clubs Programme
---
Are you interested in learning a new language in a fun and easy way? Or are you going abroad and want to have a little practice before you go? Or maybe you have already been abroad and are slowly losing your vocabulary? Anyways, the Language Exchange Programme might be a great way for you to practice a foreign language!
More information about the Language Exchange Programme
---
Are you new in Groningen? Apply for a Buddy!
Are you arriving in Groningen soon or have you recently arrived? Would you like to get in touch with a local student who can help you with your questions and show you around? Then apply for a Buddy!
Do you already live in Groningen? Become a Buddy!
Do you live (and study) in Groningen? Would you like to help a new international student find their way in the city and make them feel welcome? Then become a Buddy!